Screen Shots
To the Best of Our Knowledge
(Wisconsin Public Radio)
One day, an IRS auditor named Harold Crick wakes up to discover a voice in his head – a female voice narrating his life. That's the premise of the film, Stranger Than Fiction. In this hour of To the Best of Our Knowledge, we'll meet the man who wrote the screenplay. Also, the story of Orson Welles and his career after Citizen Kane. What do you do for an encore after you've made what many critics describe as the greatest movie ever made?
SEGMENT 1:
Laura Poitras is a Peabody Award-winning documentary film-maker. Her latest effort's been short listed for the Academy Award. It's called "My Country, My Country." Poitras tells Jim Fleming she shoots in cinema verite style and based her film on the actions of an Iranian physician and his family around the recent Iranian election. And we hear clips fro her film. Also, British actor Simon Callow is writing Orson Welles' biography. Volume 2 is called "Hello Americans." Callow tells Steve Paulson about the making and editing of "Citizen Kane" and says Welles seems to have lost interest in his films once he shot them.
SEGMENT 2:
Zach Helm wrote the screenplay for "Stranger than Fiction," in which Will Ferrell hears the voice of Emma Thompson apparently narrating his life. Doug Gordon, who often hears voices in his head, prepared this report on Zach Helm and the art of screenwriting.
SEGMENT 3: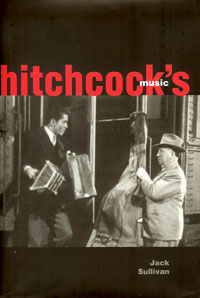 Jack Sullivan is the author of "Hitchcock's Music." He tells Anne Strainchamps about the partnership between Alfred Hitchcock and Bernard Hermann which resulted in some of the greatest film scores ever written. The piece is lavishly illustrated with clips from "Vertigo" and "The Birds" and their scores.
To Listen to the Episode