(A very reasonably priced box set of Jodorowski's films and soundtracks is now available--see last image.)
Alejandro Jodorowsky
by David Church
Senses of Cinema
Venerated by cult cinema enthusiasts while dismissed by most other critics, the films of Alejandro Jodorowsky present strange and magical visions that are not easily categorised or understood. Informed by a lifetime of spiritual journey, Jodorowsky's cinematic output is filled with violently surreal images and a hybrid blend of mysticism and religious provocation. His completed films are few in number (only six features to date, two of which he has subsequently disowned), and are typically associated with the youth counterculture movement of the late 1960s and early 1970s, especially the "head film" subgenre and the "midnight movie" phenomenon. While canonical directors like Buñuel and Fellini were celebrated darlings of the critical establishment, Jodorowsky (who wrote, directed, scored, and often starred in his personal films) was lurking on the fringes of the film world, bringing his distinctly surreal and esoteric sensibilities to the screen in controversial films like Fando y Lis (1968), El Topo (1970) and The Holy Mountain (1973). Although these films seem no more dated today than many other "countercultural" films of the same era (e.g. Godard's 1967 film, Weekend), critics have been slow to re-evaluate Jodorowsky's works. One looming reason for this has been the very limited availability of his films: due to long-running ownership disputes, most of them have merely circulated as poor-quality bootlegs distributed by cult movie traders and retailers – but this is beginning to change, as several of Jodorowsky's films are finally receiving an official DVD release as of the time of this writing. Time will tell if cultish overvaluation will stand alongside critical reappraisal as Jodorowsky's films are rediscovered by a new generation, but an examination of his life and ideas is crucial for understanding just what makes his films important.
Alejandro Jodorowsky was born in 1929 to Russian Jewish émigrés in the small coastal mining town of Iquique in the deserts of northern Chile. One of his earliest memories was discrimination emanating from the American colonial influence upon Chile, for Chileans were forbidden to walk on "the beautiful side of the gringo colonies" (1) where American mining industrialists lived prosperously. But Jodorowsky would also face local prejudices wherever he lived in subsequent years due to external perceptions of his nationality. (2)
When he was eight years old, his family relocated to the capital city of Santiago. There he became fascinated with anarchism and eventually attended college for two years, studying psychology and philosophy. Jodorowsky then dropped out and alternately worked as a circus clown, a stage actor and a theatre director, developing strong interests in marionettes and mime through his intense fascination with physical expression. The art of mime allowed Jodorowsky to do away with an actor's reliance on written theatrical texts, instead foregrounding the way that actors themselves produce meaning. By age 23, he had formed his own theatre company with 50 actors, but feeling that he could learn no more in Chile, he abandoned his local success to pursue an education in France. At this time he also severed many ties with his family and this assisted him in his firm repudiation of a specific sense of nationality.
He arrived in Paris in 1953, studying mime with Etienne Decroux before joining the troupe of Decroux's famous pupil, Marcel Marceau. During the next six years, Jodorowsky wrote several of Marceau's more noted routines, such as "The Cage" and "The Mask Maker", and embarked upon a world tour with Marceau and another member of the company. Upon returning to Paris, Jodorowsky directed Maurice Chevalier's successful music-hall comeback (after the scandal of his having endorsed the Vichy government during World War II), plus a number of plays. In 1957, Jodorowsky directed his first film, a 40-minute filmed mime routine based on Thomas Mann's novella The Transposed Heads (or The Severed Heads), the exotic and absurd story of two young Indian men whose heads are transposed without their knowledge, complicating the Cartesian split between mind and body. Jean Cocteau liked the film so much that he wrote an introduction for it. Viewers today, however, are unable to see the film, for it has been lost; the sole print was apparently taken by actress Ruth Michelly and never returned to the director.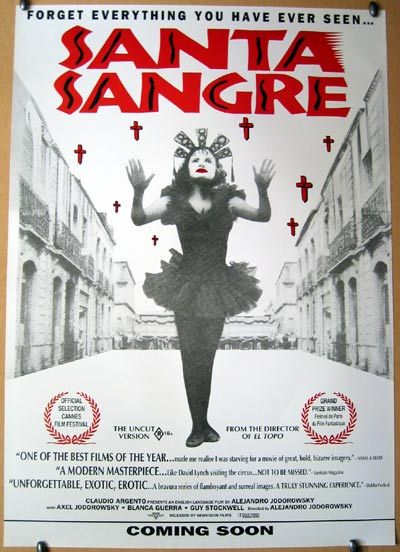 The Severed Heads is noteworthy because it marks Jodorowsky's first attempt to integrate his experience with mime and theatre into film, a project that would continue in each of his subsequent films. There are often scenes of mime in his films, such as the comical begging routines performed by the reborn El Topo in the film of the same name, or the dramatic mother/son routine that takes centre stage in Santa Sangre (1989). A theatrical influence can be seen in the series of images, landscapes and tableaux that compose his films. He often shoots from a stationary (or slowly moving) camera setup, depending upon pantomime and physical expressiveness to convey the force of action. Spoken dialogue tends to be used rather sparsely, often taking the form of aphorisms; while some critics have complained that these aphorisms seem trite and simplistic, their usage suggests an attempt by Jodorowsky to escape the film's written text by compressing a world of meaning into short philosophical declarations.
From France, Jodorowsky then travelled to Mexico, where he eventually directed over 100 plays, including many avant-garde and surrealist plays that were controversial at the time, by such writers as Beckett, Ionesco, Arrabal, Adamov and Strindberg. He also produced original plays during this time and experimented with radical adaptations of pre-existing work, such as staging Strindberg's Dream Play with only two characters. While some of these works were staged for audiences at the National Theatre, others were performed in the Mexican countryside for the lower classes; according to Jodorowsky, it was quite possible to keep these audiences interested in philosophical content by putting two naked women onstage during the performances. (3) In a sense, this staging of transgressive and potentially prurient visuals alongside serious philosophical and artistic themes is indicative of the films that he would make several years later.
During the 1960s, Jodorowsky travelled back and forth between Mexico and Paris. Greatly inspired by surrealism and determined to reinvigorate its artistic movement, Jodorowsky contacted André Breton in Paris, but was dismayed to find that Breton had become very conservative in his old age as surrealism became accepted and incorporated into high culture. While Breton still envisioned a poetic and fantastic movement, Jodorowsky was more influenced by elements of popular youth culture that Breton did not appreciate – such as rock music, science fiction, pornography and comic books – which would all factor into Jodorowsky's later work. Together with absurdist playwright (and later filmmaker) Fernando Arrabal and writer/artist/animator Roland Topor, Jodorowsky founded the "Panic Movement" in 1962 as a way to go beyond surrealism by embracing irrationality, the mysterious and the absurd, emphasising an explosive sexuality, a fearless sense of rebellion, and a collapsing of all time into the present moment. Named after the god Pan (meaning "totality"), the concept of a "Panic" artist also meant someone whose output was "polyvalent", traversing many different media in order to avoid simple categorisation; artists like Cocteau, Leonardo da Vinci and Pier Paolo Pasolini were inspirations in this sense. Despite their general aesthetic, Jodorowsky maintains that the idea of a "Panic Movement" was largely a tongue-in-cheek joke for its three founders; each person created independently, labelling their own work as "Panic", while they secretly laughed at serious attempts made by critics and other artists to theorise or follow the invented "movement". (4)
Read the Rest of the Biography