Top 25 Censored Stories for 2008: #20 Terror Act Against Animal Activists
Project Censored
(Sonoma State University)
The term "terrorism" has been dangerously expanded to include acts that interfere, or promote interference, with the operations of animal enterprises. The Animal Enterprise Terrorism Act (AETA), signed into law on November 27, 2006, broadens punishment present under the Animal Enterprises Protection Act (AEPA) of 1992. One hundred and sixty groups, including the National Lawyers' Guild, the Natural Resources Defense Council, the League of Humane Voters, Physicians' Committee for Responsible Medicine, and the New York City Bar Association, oppose this Act on grounds that its terminology is dangerously vague and poses a major conflict to the US Constitution.
The broad definition of an "animal enterprise," for example, may encompass most US businesses: "any enterprise that uses or sells animals or animal products." The phrase "loss of any real or personal property," is elastic enough to include loss of projected profit. Concerns deepen as protections against "interference" extend to any "person or entity having a connection to, relationship with, or transactions with an animal enterprise."
A letter from the American Civil Liberties Union (ACLU) to Congress dated March 6, 2006, "on behalf of hundreds of thousands of activists and members and fifty-three affiliates nationwide," explains their opposition to AETA based on the concern that First Amendment activities such as demonstrations, leafleting, undercover investigations, and boycotts may be punishable as acts of terror under the overly vague and open-ended law.
The ACLU letter maintains, "Lawful and peaceful protests that, for example, urge a consumer boycott of a company that does not use humane procedures, could be the target of this provision because they 'disrupt' the company's business. This overbroad provision might also apply to a whistleblower whose intentions are to stop harmful or illegal activities by the animal enterprise. The bill will effectively chill and deter Americans from exercising their First Amendment rights to advocate for reforms in the treatment of animals."
Author Will Potter argues that the harsher amendments that AETA brings to its predecessor, AEPA, are hardly necessary, as AEPA was successfully used to disproportionately prosecute the SHAC 7—six animal rights activists organized to expose the illegal and inhumane operations of Huntingdon Life Sciences—for "animal enterprise terrorism." Budgerigar of Earth First! recounts that three of the defendants were charged under AEPA in September of 2006 with interstate stalking and conspiracy to commit interstate stalking for organizing demonstrations and running a website that published names and addresses of those involved in the vivisection industry. The group was collectively sentenced to twenty-two years in prison. "The supreme irony of this case," notes Budgerigar, "rests in the fact that these activists were convicted of conspiracy to damage the profits of an animal enterprise, but not of actually damaging it. Even so, the ever-so-honorable judge ordered the defendants to pay a total of $1,000,001 in restitution fees."
Yet Congress deemed that AEPA was not a serious enough tool for going after animal rights "extremists." David Hoch and Odette Wilkens of Equal Justice Alliance ask, "How did this bill [AETA] pass the House?"
Hoch and Wilkens explain that in spite of the fact that one hundred and sixty groups opposed its passage, the House Judiciary Committee placed AETA on the suspension calendar, under which process bills that are non-controversial can be passed by voice vote. The vote on the bill was then held hours earlier than scheduled, with what appears to have been only six (out of 435) Congresspersons present. Five voted for the bill, and Dennis Kucinich, who said that "[t]his bill will have a real and chilling effect on people's constitutionally protected rights," voted against it. Kucinich went on to say, "My concern about this bill is that it does nothing to address the real issue of animal protection but, instead targets those advocating animal rights."
Budgerigar concludes, "The message could not be more clear: run an effective activist campaign, and you will be vilified, criminalized, and imprisoned."
UPDATE BY DAVID HOCH AND ODETTE WILKENS
The Animal Enterprise Terrorism Act (AETA), whose recent passage received virtually no media coverage, will chill the first amendment rights of animal advocates and serve as a template for future limitations on the free speech of all activists. The Act subjects anyone who (1) uses interstate commerce, (2) with the intent to damage or interfere with an "animal enterprise" or with any person or entity associated with an animal enterprise, and (3) causes any economic damage or corporate profit loss or bodily injury or fear of bodily injury, or (4) conspires or attempts to do any of the foregoing, to prosecution for "animal enterprise terrorism."
AETA expands the Animal Enterprise Protection Act (AEPA), under which six animal activists were convicted and imprisoned for publicly advocating animal protection activities. The new law requires less serious conduct than the "physical disruption to...an animal enterprise" called for in AEPA, provides stiffer penalties for economic damage and subjects violators who cause no economic damage, bodily harm or fear of serious bodily harm, to as much as one year in prison, while also serving as a predicate for wiretapping.
AETA serves animal enterprises wishing to brand animal activists as criminals and treating dissent as terrorism, and indicates a trend toward treating dissent as terrorism, as evidenced by the Justice Department's current attempt to increase sentences up to twenty years through the application of a concept called "terrorism enhancement."
AETA violates the First and Fourteenth Amendments by proscribing formerly protected modes of expression and invidiously discriminating against animal activists through the imposition of harsher sanctions than those applied to similar or even more serious crimes under the 2005 federal sentencing guidelines. The Act is also unconstitutionally vague, due to the indecipherable ambiguity of statutory terms such as "interfere with" or "profit loss." That vagueness extends to declared exemptions for lawful boycotts and peaceful protests, which could involve the same conduct that would subject one to prosecution under AETA. A lawful boycott is, by definition, the intent to interfere with and cause economic damage to some enterprise.
Furthermore, an animal enterprise need not be acting lawfully to be protected under the Act. Illegal animal enterprise is not an affirmative defense for activities such as whistle-blowing or undercover investigations into animal cruelty, labor conditions, or environmental violations.
To Read the Rest of the Report and to Access More Resources
Green Scare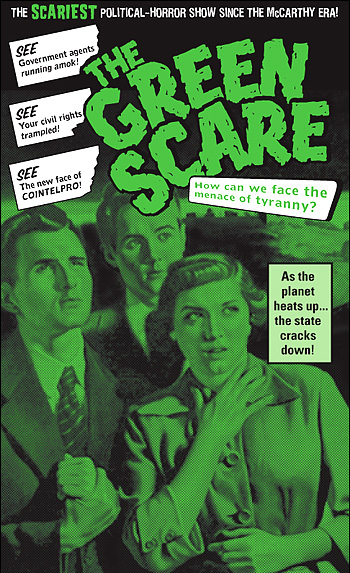 What is the Green Scare?
Midwest Green Scare
Cincinnati Green Scare Raids
Rod Coronado gave a talk in San Diego and the feds called his words 'terrorism.'
Grist Magazine: A Cure For What Jails Ya
Independent Media Center: Secret Grand Jury investigations have led to indictments of 12
Green is the New Red
Counterpunch: Kelly Overton--The Casualties of the Green Scare
Portland Indy Media Green Scare Page
Crimethinc's Rolling Thunder: The Primary Lessons of the Green Scare